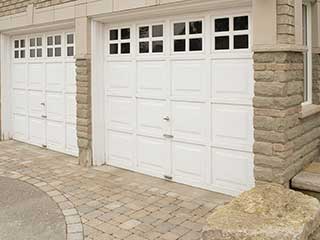 Automatic garage doors aren't just showy accessories. They give the contents of your garage better security. They also provide protection from the elements, and ease of use than any alternative to date. If you live in the Fort Worth, TX municipal area, cheap garage doors of high quality are available with full installation services. Automatic overhead garage doors come in all different styles. Let Garage Door Repair Fort Worth help you choose and install your perfect system! If you're in need of repairs, well, it's in the title, after all. So you can definitely turn to us for emergency solutions and general troubleshooting.
Low-Cost Garage Doors In Fort Worth
You can get new garage doors made by Raynor, Clopay, Amarr, and many other brand name manufacturers. This includes not just panels, but the hinges, tracks, and springs for custom doors too. Our inventory includes parts from most of the major companies, which gives you a big menu! Garage Door Repair Fort Worth excels at finding the most low-cost garage doors and components of every customer's chosen style. Our garage door installation services cover anywhere within the nearby area at no extra cost And remember, you get a free estimate when first inquiring about a new system.
The Best Garage Doors?
There's no single best garage door type; only the best type for you. No matter what kind of budget you're working with, there are traits and features that you need to prioritize. Are you worried about break-ins or accidents? Then you'll want a stronger door, which means steel or wood. Are water damage and air pollution a concern? Aluminum garage doors, or multi-layered steel and synthetic ones, are both better options. Heavier doors need more powerful openers and springs.
Garage Door Installation
Cheap garage door installation that will stand the test of time is a rare find, but one Garage Door Repair Fort Worth prides itself on providing. To get garage doors installed, our team first needs to know the size of your garage entrance and what you need the door to do. If your garage already has a pair of tracks and/or a spring and lift cable housing assembly, our team just needs to bring over the door and set it up. If you've never had an automatic overhead door before, the tricks, spring housing, and cable spools all need to be installed first.
Garage Door Openers And Springs
An often-used garage door will go through openers and springs every few years. That said, knowing which garage door opener is best for your particular door system will make it last much longer. There are two basic types of garage door springs, and openers come in more variety than the doors themselves. Make sure to choose an opener with significantly more lifting power than it takes to raise the door. An opener that's just barely able to move your garage door will burn itself out years early; let our team help you find the best model for the job.
Any Garage Door Service You Need
Garage Door Repair Fort Worth offers same day responses 7-days a week for installation, replacement, and repair. If you need broken spring repairs, a bent panel replaced, or some opener troubleshooting, we're the service team to call. Contact us today, and get the best and most affordable garage door services this side of Fort Worth.