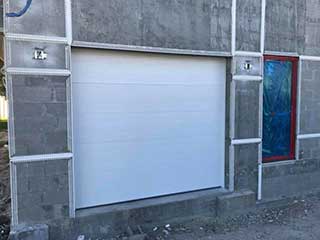 Keep It Shiny
Considerate handling is one of the first things you should look for when choosing an installation service. No one wants dings and scratches on their brand-new purchase. A garage door is a considerable investment, and your technician should appreciate the thought and care that go into your decision when he or she is handling your door. Our staff guarantees customer satisfaction with our thoughtful and swift service.
Let Us Anticipate the Issues
Proper alignment is only one of the issues that need to be considered when a new door is being installed. Our technicians can advise you on care and maintenance as well as be on the lookout for any red flags that they may notice that are not apparent to the untrained eye. We take great care to assure that each track is perfectly straight before we bolt it in place, and that all of the moving pieces are well lubricated and working correctly when we're finished with our assembly. Installing the springs can be a tricky process and one best left to the professionals. Unbalanced springs can cause a host of issues that won't be immediately noticeable. Likewise, the torsion rods and pulley system can be finicky, and we draw on years of experience to make sure that everything is in the right place and appropriately tightened before we declare the installation complete. You'll be left with a beautiful and fully functional garage door that you can be proud to show off when friends drop by.
Experienced Handling
Count on the professionals here at Garage Door Repair Fort Worth to give you a great experience with your garage door installation. Our exceptional customer service and attention to detail mean that our customers are completely satisfied every time. Call us now to set up your installation appointment.