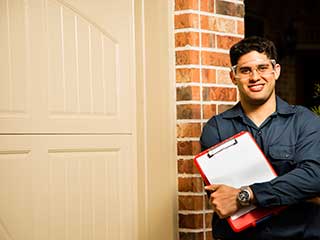 Keeping your garage door working doesn't take a lot of time or effort in the grand scheme of things. If you neglect it though, you can have a very expensive, inconvenient, and even dangerous catastrophe on your hands. Servicing your garage door is important, and best done by trained professionals. Make sure you leave overhead door problems to the nearest pros – a.k.a Garage Door Repair Fort Worth.
Professional Maintenance And Repairs
Every year, thousands of people are injured in garage door related accidents. These accidents often involve amateur maintenance attempts. A much smarter approach is to get in contact with the best nearby local garage door company (i.e. us) and have them provide a maintenance and checkup visit every six to ten months. Periodic tune-ups like this save time and money in the long run by preventing most problems and catching the others before they can get major. Troubleshooting a garage door requires more than dumb luck. There are skill and experience involved. You don't want to make the wrong move and hear a spring snap. Flinching would be the least of your problems.
Broken Spring Repair And Replacement
The springs are the most hardworking part of an automatic garage door. This means that they're also the part that gets the most mechanical stress, and usually the one that needs the most frequent replacement. Depending on how often you use your garage door, and what type of springs it has, you should have new ones put in every four to ten years. Remember that garage door springs are nothing to trifle with. The tension their coils carry is liable to cause them to break when misadjusted. Avoid attempting any DIY repairs with these devices. Consult the experts from Garage Door Repair Fort Worth t to learn more about your particular spring system.
Garage Door Opener Repair
If you have a garage door not opening, a garage door not closing, or a garage door behaving strangely, there is probably an issue with your opener. Opener repair can involve setting adjustments, hardware replacements or realignment, and even software debugging. Always listen for strange noises coming from the opener box and drive system, and get help if there's a significant change. New garage door opener replacement is typically needed every ten to fifteen years, but problems can start much earlier if you aren't careful!
The Garage Door Itself
Sometimes, you'll have a garage door off track after the rollers or tracks come loose, or after the door suffers an impact. Other forms of damage and decay can cause one or more panels or hinges to need replacement. Fresh garage door installation or replacement is sometimes easier than repairing a damaged one, depending on the maker and model of the door. If the door comes off track but is otherwise unharmed, our service time will have no issues reinstalling it.
Same Day Garage Door Services
These are the most common types of garage door failures and maintenance. But there are all sorts of troubles and other needs for why you'll require various garage door services. Whatever the case may be, Garage Door Repair Fort Worth has you covered. Call us anytime.