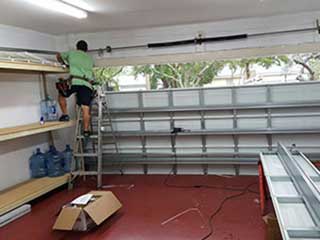 There are a lot of parts of your automatic garage door that need to be looked after regularly. Otherwise, your system simply won't last as long, and you will have to spend more money on frequent repairs. To avoid this, simply have our technicians service your door on a regular basis. You'll be amazed by how many malfunctions can be easily prevented this way.
Time For Lubrication
Torsion springs are the key component that needs to be applied with this type of friction-reducing substance. They're not the only ones, though. Rollers and hinges can also benefit from this, as it will keep their performance more efficient and silent, and reduce the strain they operate under. Every part that can benefit from regular lubrication will be serviced this way, and your door will therefore stay more silent and will move much more smoothly.
Testing The Eye Sensors
To make sure your opener won't accidently close the door while there's a person standing under it, we will check the alignment of the safety sensors it uses to detect obstacles. If we find that these components are not positioned correctly, or that their lenses are severely scratched, we will reposition them or replace them, whatever the situation demands.
The Exterior Factor
Your garage door is a major contributor to the curb appeal of your home. Therefore, the condition of its panels is very important, and they need to be inspected and repaired regularly. Wooden panels can chip or start to rot, steel doors can rust, and aluminum ones can become dented. We will repair any minor damage to the door to keep it presentable and beautiful, and even replace entire panels if their condition has become too worse for wear.
The Service You Deserve
Every part of your system will be carefully examined and tested, in order to truly see to it that your door is in the best possible shape. Contact our team at Garage Door Repair Fort Worth today and join many others who enjoy our maintenance service.
Let our team take care of it for you!
Roll Up Garage Door Services
Garage Door Cable Replacement
LiftMaster Garage Door Opener Repairs
Garage Door Opener Track Maintenance