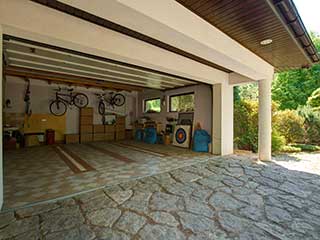 All of us here at Garage Door Repair Fort Worth are completely committed to providing you with the best service experience we can. We are known around the great state of Texas for our quality service, meticulous attention to detail, friendly service professionals, and ability to get the job done right the first time. Whether your garage door is stuck half-way open or you've just bought a new house and need a safety check, we're the service professionals you should turn to.
We'll Handle The Dangerous Parts
Springs and cables can pinch your fingers. Our company specializes in being there for you in a pinch, so you don't get pinched. Training and good old-fashioned experience are what sets us apart and above the competition. Our specialists pay attention to the smallest details because we don't believe in cutting corners. We have the expertise to know how to prevent serious injury from occurring.
Leave Spring Repairs to Our Experts
Do you have a spring that has broken in half? Most of the components of a garage door are heavy metal pieces with very sharp edges, and replacing them is one of the most dangerous garage door tasks that need to be performed. It is a job that should only be tackled by our trained professionals. Our technicians have all the tools and know how to get the job done safely and fast.
Make Your Home Look New Again
The vibrancy and shine of your garage door panels can wear down from weather and old age, and they will more than likely break eventually. Have your old looking panels turned your once beautiful door into a real eyesore? We can replace them with new ones of a matching design, and make your house look brand new again. Call us today and schedule an appointment to make your home look brand new again.
Professional Opener Repair
The biggest moving part of your home is a door controlled by a motor the size of a toaster. Don't put up with a slow-moving or broken garage door opener. Don't let it make your car a prisoner in its own home. Our team can fix any issue that may come to affect it, and we will happily bring your garage into the 21st century with the newest models on the market. We can help you choose a highly advanced unit and install it to perfection.
Emergency Demands Urgency
Call today and our emergency repair technicians at Garage Door Repair Fort Worth will get to you quickly and get your door up and running again in no time. Let us show you why we are the best and why you'll never need to search for another service company again.